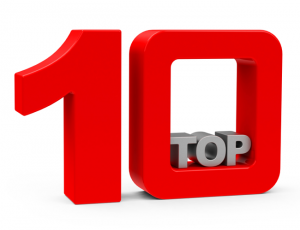 Omaha Promos is sometimes asked, what is a promotional product? Well, it's pretty simple, really. A promo product is a specific gift, article of custom clothing, branded item, trade show/expo giveaway or other decorated item bearing your company or non-profit's name and logo. Promotional products are specifically designed with a high conversion rate in mind, meaning the more people who are exposed to your brand, the more people who elect to do business with you.
Now that Team Omaha Promos has established what a promotional item or promo product is, it's time we lay the foundation for why you, Mr/Mrs Small Business Owner, should be sourcing promotional products, and specifically promotional products from Omaha Promos. So without further delay, the Top 10 Reasons for Promotional Products!
1. People love them and want them! Who doesn't love a free gift? On survey, over 80 percent of Americans said they like receiving a promotional product with an advertising message, and nearly half said they would like to receive promotional products more often!
2. They build brand awareness. Whether the recipient keeps the item or passes it along to someone else, every time the product is used, your company name is seen. This will lead recipients to think of you the next time they need the products or services you provide. If you give away a wearable item like a hat, t-shirt, Omaha Promos custom trucker cap, beanie or hoodie, recipients will become walking billboards ever time they wear the custom apparel item!
3. They can boost sales. Market data say three of four consumers do business with an advertiser after receiving a promo product from them. Time and time again, Omaha Promos promotional marketing will show an uptick in your ROI. We guarantee your satisfaction!
4. They create goodwill. Customers, prospects and employees all appreciate receiving a gift. A useful or fun promo item creates a positive impression of your company and lasting goodwill.
5. They're memorable. Our own data say the vast majority of Omaha Promos promo product recipients remember our company after receiving a promo marketing gift from us. And we can tell you from experience, if a consumer, prospect or client remembers you, they're more likely to do business with you.
6. They're useful. If you choose a promotional item recipients will value, they will use — and appreciate it — frequently. And this results in continued exposure for your brand. Omaha Promos always errs on the side of quality, people appreciate it!
7. They're versatile. There are so many ways you can use promotional products from Omaha Promos, for example, as thank-you gifts, customer loyalty gifts, employee appreciation gifts or employee incentives, trade show or conference giveaways, sales meeting leave-behinds, safety program and sales incentives - the list goes on and on. Omaha Promos does a number of green and renewable promotional products too!
8. People keep them. Research shows six in 10 consumers keep promo items for up to two years. More than half say they use a promotional item at least once a week or more. In comparison, an ad or billboard gets glanced at once or twice, if you're lucky. And don't even get us started on the cost (and ineffectiveness) of radio advertising.
9. They're customizable. There are thousands of promotional products available in a wide range of price points to meet any budget, theme and marketing objective. Plus, you get to choose the message, the audience, the colors, and much more. Omaha Promos has customized apparel, drinkware, writing instruments, outerwear, baseball caps, mugs and thermoses, coolers, electric guitars, snowblowers and even kayaks! If you can put your name on it, Omaha Promos can do it, no joke!
10. They're targeted. A newspaper or radio ad goes out to a wide audience, only some of whom might be in the market for what you're selling. With promotional products from Omaha Promos, you control the distribution, resulting in a more powerful marketing effort and better return on investment.
Want to learn more about how carefully curated custom promotional advertising and custom apparel can benefit your small business? Call Omaha Promos or hit us up through our website interface - you'll talk to a real person, same day, guaranteed!