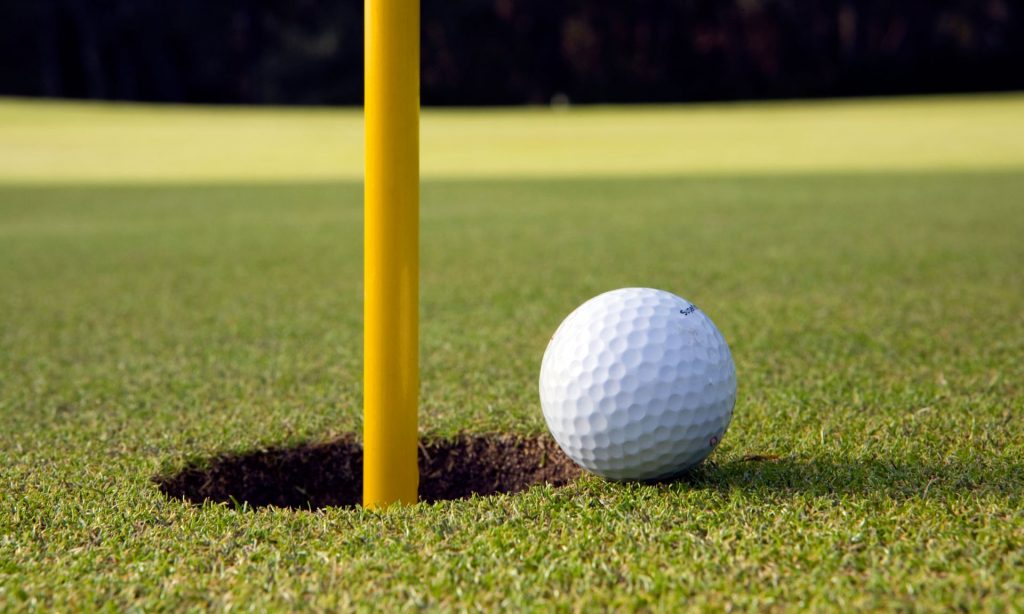 Think about how many logos appear on golf related items. It's staggering. As a matter of fact, you would be hard pressed to find a non-logo golf shirt, golf ball, golf umbrella or golf related accessory if you tried.
Omaha Promos has been heavily involved with local and regional charity golf events, golf scrambles and corporate tournaments throughout the Midwest and beyond. In this week's installment of Omaha Promos News we will discuss a few of the more prominent and popular choices when it comes to putting your logo on golf related items, and maybe introduce you to a branding idea you hadn't thought of.
Custom Golf Balls
Custom logo golf balls from Omaha Promos are the quintessential golf related promotional item and for good reason. They're fun and affordable, and everyone appreciates them! These make awesome gifts for any event or corporate outing, and are even useful as trade show giveaways (especially if giving out singles). Choose from Titleist, Callaway, Pinnacle, TaylorMade, Bridgestone and others! And while we won't mention custom golf tees as a separate category in this post, don't forget Omaha Promos is your best source for fun and affordable customized golf tees in both wood and plastic, all imaginable colors available, and decorated with your slogan, company name or business url right down the side!
Custom Golf Apparel
Custom golf apparel is a spring and summer staple of Omaha promos. What better way to show off your organization's brand at the next charity golf scramble or company tournament? We offer dozens of styles and decorating options for our custom golf apparel and boast such retail brands as Nike, Adidas, FootJoy, Under Armour, Oakley and Greg Norman just to name a few! Omaha Promos has lines of golf shirts in performance poly, dri-fit, moisture wicking, and we offer athletic cut shirts for those guys into a more custom fit. Finally, don't forget custom golf hats, visors and outerwear like jackets and rain ponchos to keep you comfortable and dry all season long.
Golf Umbrellas
Custom golf umbrellas deserve a mention all their own. Omaha Promos sells a lot of golf umbrellas and we offer an incredible array of brands, size, styles, colors and decorating options that will fit any need. Consider too just how large an "advertising area" you have in your hand when deploying a logo umbrella. We offer telescopic and auto-open features in our umbrellas. Don't dismiss the fact these bad boys aren't just for foul weather; golfers in warmer, sunnier climates than the Midwest will use their Omaha Promos custom golf umbrella for a break in the searing heat and sun too!
Golf First Aid Kits
We know what you're thinking, golf isn't the first thing that comes to mind when pondering sports-related injuries, but injuries, occasionally serious ones, do happen on the links. Golfers are injured every year by being struck with golf balls or a golf club, or in golf cart related injury, but there are lots of lesser ways you can wind up sick or injured from an outing to your favorite course. Omaha Promos can put together custom golf related first aid kits with your logo on the pouch, a surefire bet to win friends and fans of your company when you give the kits out at a trade show, company dinner, or as employee appreciation awards. Our kits contain useful items such as band-aids, gauze, anti-bacterial spray, poison ivy packets, after-bite and after-sting sticks, sunscreen, insect repellent and hand sanitizer.
Omaha Promos has been your one stop promotional products and custom apparel vendor in the Midwest for decades. Call or e-mail us today for the fastest, friendliest service on any branded merchandise, identity-wear or logo promo product project!