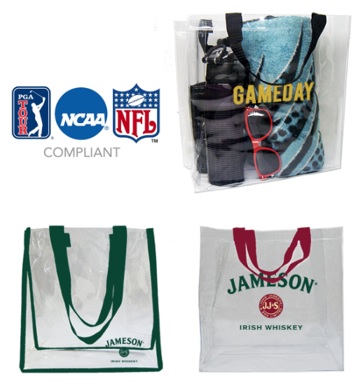 We here at Team Omaha Promos are big time college football fans. The University of Nebraska will no longer allow ladies purses or traditional backpacks inside Memorial Stadium, this after the NCAA announced their decision to follow the NFL's Clear Bag Strategy for game day.
Have no fear, you can still bring your gear so long as it's being carried in a clear tote. Omaha Promos offers a slew of cool clear tote designs complete with (permitted) logos of your company or non-profit. These clear totes are an awesome way to gain exposure for your brand while doing something nice for your customer base - all at an attractive price point. These bags are NFL, NCAA and PGA Tour compliant, so no hiccups at security checkpoints when you venture out to your favorite pastime sporting event!
Omaha Promos and Omaha Promos Kansas City continue to be your value leader in all things promotional products, custom apparel, logo caps and bags, writing instruments, trade show giveaways, green promotions, employee incentive gifts and customer appreciation gifts here in the Midwest and beyond. As always, fourth generation family owned and operated in Omaha and Kansas City! Call or email today for a quick quote on your clear bag/clear tote creation!