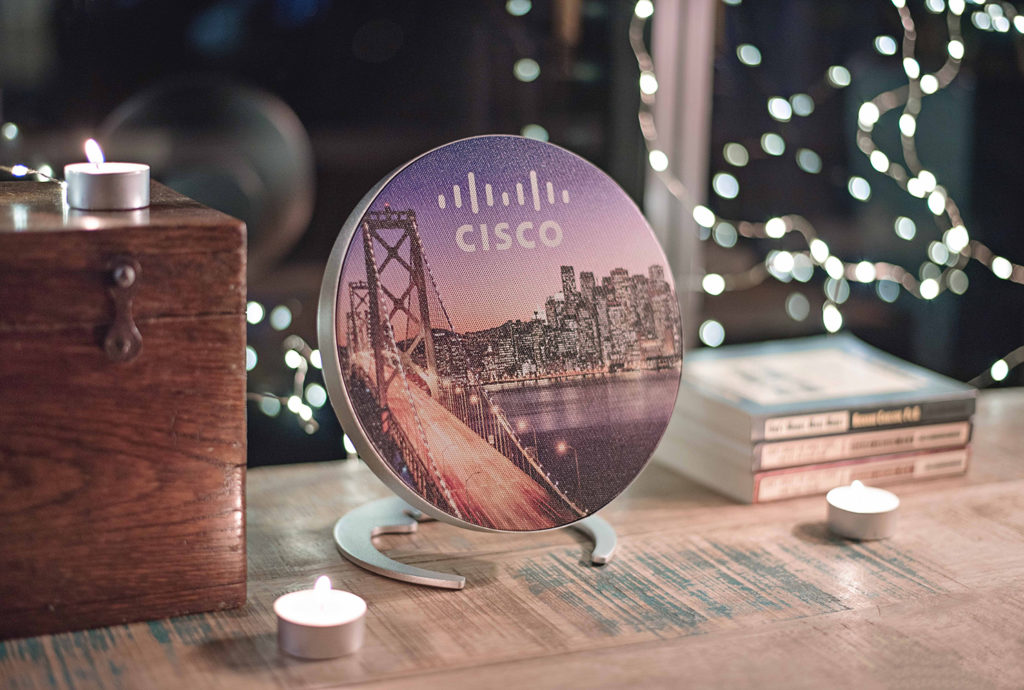 Custom electronics are all the rage these days, with custom power banks, custom headphones and earbuds, biometric journals, UV sanitizers for your electronic items, multi-port USB hubs and the like. Today we'd like to unroll three of our favorite tech promotional items (aka electronic promo gifts) that are sure to please anyone who receives them.
For most of us, music can transform a moment, fill space and transcend time.  Omaha Promos is proud to bring you a stunning line of custom Bluetooth speakers, engineered to deliver bold, brilliant sound in a classic design. Omaha Promos custom Bluetooth speakers boast powerful 8W dual driver performance and state-of-the-art wireless technology to enhance your musical experience to something you'll never forget. Wireless speakers from Omaha Promos come full-color customized with your company logo - we just need your art. Not only do they look great on a desk, conference table, fireplace mantel or just about any other place you decide to put one, they are incredibly well made, practical and much-appreciated. Consider them for your possible promotional product, customer appreciation or employee incentive gift ideas for the 2018 holiday season. Our custom wireless speakers offer up to 8 hours of audio play time and a 33 foot wireless range. Call Omaha Promos now for special seasonal pricing!
Another great tech promotion that will build your brand and keep the ears of your customers and fans happy are custom Bluetooth headphones from Omaha Promos. Wrap your brand (and noggin!) around a statement piece that's sure to thrill with omni-directional bass and 85% noise cancellation to deliver high definition stereo sound no matter what you're doing. You can fully customize Omaha Promos wireless Bluetooth speakers with your company logo (on both earpieces) and we offer deluxe retail packaging so the presentation of your gift will be as impressive as the awesome music the wireless headphones deliver. Our custom wireless headphones feature 10 hours of continuous run time, an adjustable headband with comfort-fit ear padding, and custom packaging that will prove perfect for your holiday gift giving in 2018.
Last up in our trifecta of awesome audio gifts for your promotional products gift giving campaign this year are custom Kronies, true wireless earbuds from Omaha Promos. We are constantly telling people about the freedom and enjoyment of wireless earbuds. Honestly, once you try a quality set of customized wireless earbuds from Omaha Promos, you will want to buy more sets and give them away to family and friends. Listen to your favorite jams or take calls from your customers with the built-in microphone. Wireless and portable, Kronies from Omaha Promos follow you wherever the road leads while keeping you connected along the way. And with the help of Omaha Promos, our wireless earbuds will sport mini-logos of your company or non-profit, meaning more exposure for your brand while you're out in public, at the park, at the gym - anyplace you go with our wireless earbuds!
Omaha Promos is your one-stop shop for all things custom clothing, promotional products, branded gear, promo marketing, custom apparel, trade show gifts, employee incentives, green promotions, client appreciation gifts and, yes, a full array of awesome tech gifts sure to please anyone you give them to, all while boosting brand awareness for your company!