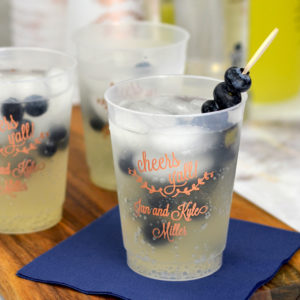 Beer sales in the US top $100B annually. That's right, "B" for billion! That's a lot of suds.
Considering America's love affair with their brew, Omaha Promos decided to roll out an array of beer related and brewery related promo items you might be interested in for Summer 2019!
Custom Coasters
If you're partaking in a frosty beverage, you need a sweet place to put it, right? Have no fear, Omaha Promos carries a massive line of various promotional, custom coasters for your networking event, cookout or trade show giveaway. And you should absolutely be calling Omaha Promos if you're the owner of a bar, brewery or winery because our selection of custom coasters is unrivaled! We offer full color photo coasters, cork coasters, pulp board and paper coasters, foam coasters, ceramic coasters, metal and plastic coasters, and a whole lot more.
Custom Beer Related Drinkware
Omaha Promos does a ton of custom drinkware for our clients around the country. Obviously, we can custom imprint your logo or company slogan (or any design you so choose) on your custom glasses and mugs. Omaha Promos offers a dizzying array of custom beer mugs in plastic, metal and glass. We carry mason jar style craft beer glasses which are really popular these days because they're unique and allow you to showcase your brand with something different than the rest. We carry large Hayworth style beer mugs, a variety of beer steins, small beer taster and beer sampler glasses, and dishwasher safe plastic beer glasses which are perfect for patio parties.
Custom Bottle Openers
Omaha Promos has you covered on custom bottle openers. Bottle openers are a classic promotional product to showcase your brand because they're affordable, everyone likes them and people hang onto 'em (which means repeat brand impressions every time they're used!). The variety of discount bottle openers is vast, so Omaha Promos can help you out with selection based on your style, preferences and promo marketing budget. Choose from awesome looking and durable custom stainless steel bottle openers, small plastic bottle openers that are easy to carry (e.g. key chain bottle openers so you never miss an opportunity on the golf course or elsewhere), wide body bottle openers, aluminum bottle openers, bartender and credit card style openers, magnetized bottle openers and more.
Personalized Party Cups
Custom plastic party cups are huge right now. Perfect for family reunions, company parties, trade show giveaways, tailgaters, golf tournaments and scrambles, wedding receptions, just about anything you can think of where a custom plastic party cup could be decorated to get your message (or logo) out for all to see. Omaha Promos has 16, 22 and 32 ounce stadium cups that can be fully customized, we offer frosted plastic cups, a great selection of paper coffee cups with and without lids, we have an awesome lineup of Styrofoam cups for all your party and gathering needs, smaller 9 ounce frosted "flex cups" that are outstanding for wine and liquor on the rocks, etc. And don't forget Omaha Promos unrivaled selection of custom koozies and can coolers for your summertime gatherings.
Omaha Promos is your one stop shop for all things promo products and summertime beer and brewery related marketing ideas. Call us today. You'll be happy you did, trust us!