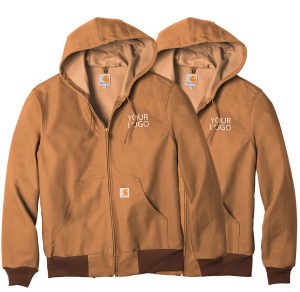 Readers of the Omaha Promos blog may be surprised to find out almost 70% of all consumers own at least one example of custom logo outerwear. That's a lot of brand impressions being made as people don their logo jackets, hoodies, vests, coats and fleece and head out onto the town.
Custom logo outerwear is something all small business owners should consider outfitting their staff and sales team with, and with colder November temps rolling in, now's the perfect time to call on your custom clothing and uniforms experts at Omaha Promos!
Outerwear designers have a difficult job. They're tasked with creating high performance, stylish and lightweight vests, jackets and coats that aren't just stylish, but garments that will stand up to the extreme and rapidly changing weather conditions that seem to prevail across most of the country this time of year. That's why you can rely on us for guidance and direction!
Omaha Promos' research leads us to understand there are particular styles and types of custom outerwear consumers are looking for. These are the Top Ten most searched for custom outerwear terms used by consumers who are seeking custom corporate clothing and uniforms for the cooler/cold months:
Safety Vest
Jacket
Vest
Poncho
Rain Jacket
Sweater
Carhartt Jacket
Sweatshirt
Hoodie
Fleece
Custom outerwear from Omaha Promos is a long lasting investment in the way your employees look and present themselves to the public. It so happens that, on average, custom logo outerwear by Omaha Promos generates about 6,000 impressions over its lifetime. (Impressions are exposures, or opportunities your promotional clothing bearing your business' logo is seen by people as they go about their day - this is huge advertising exposure in addition to our line of fall and winter outerwear being practical and warm).
That little factoid may provoke customers who buy promotional products, custom apparel and logo merch to ask why exactly does outerwear from Omaha Promos enjoy such a long lifespan? The reasons are pretty simple, really. First, people tend to hang onto outerwear year after year, provided it's of good quality to begin with, and Omaha Promos offers retail quality, brand name outerwear choices from lines such as Carhartt, Columbia, The North Face, Patagonia, Adidas, Gildan, Next Level and several others. The next reason people keep outerwear is the sheer utility of it. Last but not least, people retain and keep wearing logo outerwear because these types of fall and winter garments are attractive, plain and simple; matter of fact, upwards of 42% of all women wear their promo outerwear regularly throughout the work week. Take advantage of these trends and get your company logo out there for all to see this holiday and winter season!
When you do something as long as Omaha Promos has done promotional products, custom corporate clothing, a full line of uniform options, trade show giveaways, green promotions, customer appreciation gifts and all the rest we offer, you get pretty good at what you're doing. Omaha Promos offers a scintillating array of awesome logo clothing choices for you during fall/winter 2019 including jackets, sweatshirts and hoodies, windbreakers and rain gear, safety vests, outer coats and fleece options just to name a few.
Call us or hit us up today for a free consultation. Omaha Promos, now with offices in Omaha, Nebraska and Kansas City, Missouri. Amp Your Brand with Omaha Promos today!