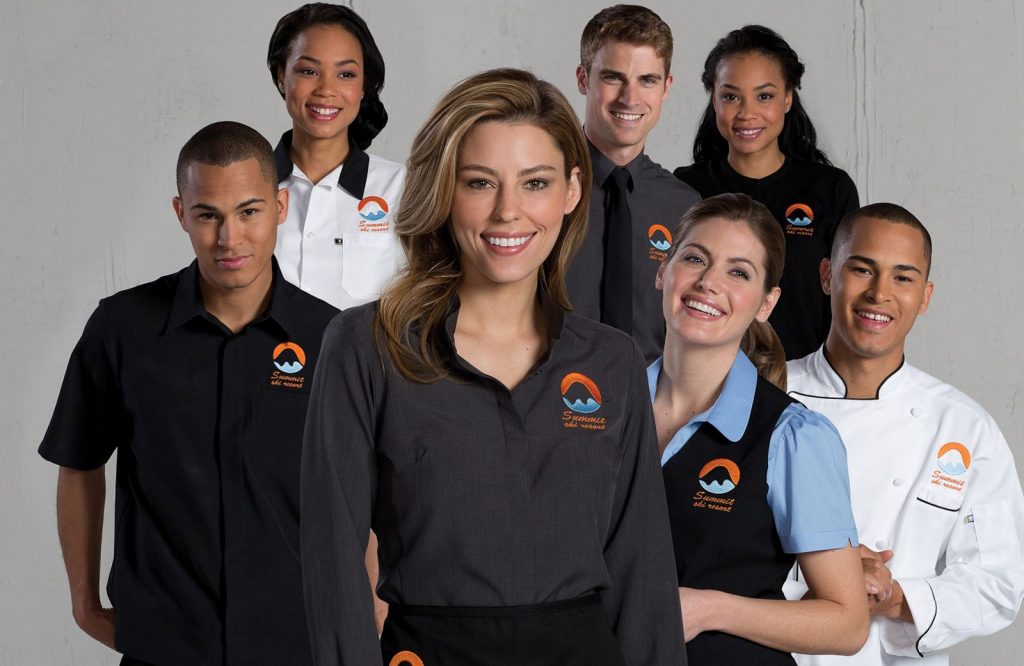 Omaha Promos has been your one stop shop for all things promotional products, branded apparel, logo gear and so on, but did you know Omaha Promos is a Midwest leader in the custom staff uniforms field as well? Business casual clothing is a category we tend to lump under the custom uniform umbrella, and Omaha Promos packs a punch with a heavyweight selection of all your Omaha uniforms needs!
Restaurant Uniforms
Omaha Promos offers a full line of custom restaurant uniforms to include servers uniforms, chefs coats, custom aprons and name tags. We can create awesome custom uniform programs for your hometown eatery or franchise restaurant, casinos and more. Not only will your staff enjoy the morale boost of a handsome, well made custom restaurant uniform, but Omaha Promos can offer you custom clothing lines to include features such as wrinkle-free, stain-resistant and moisture-wicking properties that keep the garment fresh and your employees looking and feeling awesome throughout their shift! This goes for our entire line of restaurant clothing, from the understated yet elegant white shirt/black tie/apron so popular today, to a more traditional and formal appearance of a suit or tux jacket.
Hotel and Hospitality Industry Uniforms
Omaha Promos works with both local and regional hotels and other companies within the hospitality industry to outfit their employees with the sharpest array of custom uniforms available from dozens of quality manufacturers. We can supply custom blazers, jackets, vests and pants for front desk personnel; shirts, ties, sweaters and custom polo shirts too; and don't forget to ask us about the selection of decorating options available from Omaha Promos to include custom embroidery, screen printing, dye sublimation and others. We also offer several lines of hotel housekeeping uniform choices including tunic style tops, housekeeping dresses, pants and aprons as well as scrub sets (scrub tops and scrub pants). Finally, Omaha Promos has a line of related custom clothing choices suitable for the catering industry.
Business Casual for Employees
You can lump a bunch of different clothing items into this category, e.g. business casual, business clothing, corporate clothing, company logo shirts, company shirts, business uniforms, company t shirts and other descriptive terms. No matter what you want to call it, Omaha Promos can and will deliver on your specific needs with a uniform line as large or as small as you need it, and guaranteed to fit your budget.
Omaha Promos bread and butter in this category are the ubiquitous men's and ladies custom polo shirts. We have virtually unlimited options here, including both long sleeve polo and short sleeve polo shirts in performance pique, dry mesh, color block, dry-fit, silk touch, raglan and stain resistant polo shirts, cotton, poly, space dye and tonal - and a whole lot more. Omaha Promos offers custom polos from reputable manufacturers such as Nike, Under Armour, Cutter & Buck, Port Authority, Eddie Bauer, North Face, Adidas, FootJoy, Izod and several others.
Omaha Promos can digitize your logo, or if you have camera ready art (normally a vector file), send it to us and we'll get started on your custom business wear order today!