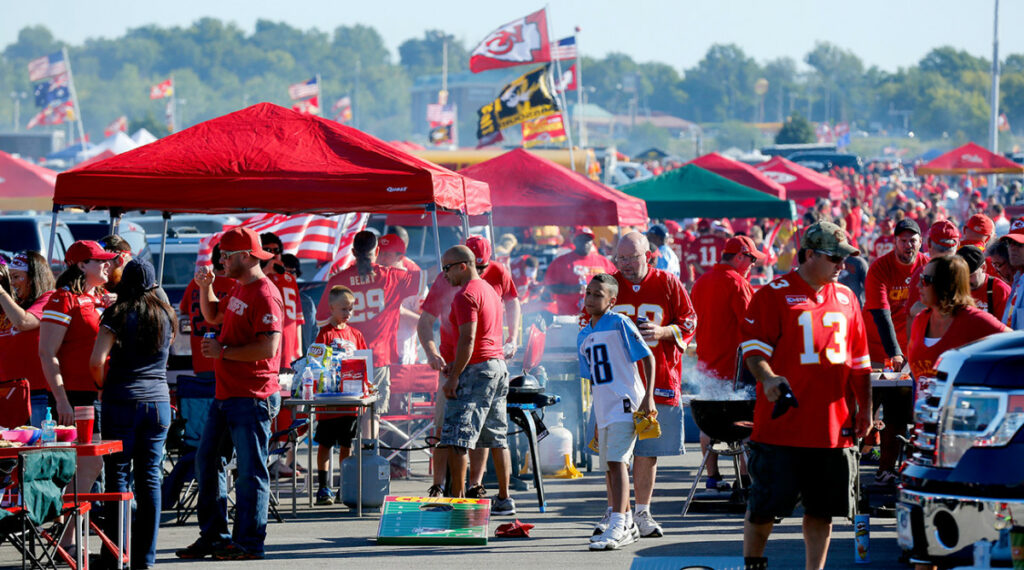 The team at Omaha Promos and Omaha Promos Kansas City are serious fans of gridiron glory, and even though it's still hot and steamy in the Midwest as we write this, high school football is about to begin, the NFL preseason has begun already, and College football starts in just over two weeks! Go Chiefs! Go Huskers! (Don't hate us cause you ain't us!)
There may be no sport as widely popular as football and that means there are nearly limitless methods your company or non-profit can increase awareness of your brand by utilizing decorated promotional products as gifts, prizes or giveaways, items that are useful to people and carry your company name, colors, logo and even your url and/or phone number. Here are just a few football related ideas to chew on.
Custom Spirit Rally Towels
Custom spirit towels (aka rally towels) from Omaha Promos are a surefire way to get the home crowed whipped up and rooting for the home team while serving as a useful way to get your business name out in front of hundreds, perhaps thousands of people. Imagine a custom rally towel in home team colors and bearing the team's mascot or logo while, say, sporting a "Brought to you by ACME USA" stitched or screen printed on the other side? People will remember your name, and the towels will be both appreciated and used over and over again. Any marketer will tell you that's ultimately good for the bottom line! Our spirit towels are made of 100% polyester microfiber, come in many colors, and are way affordable. Call or e-mail your inquiry today!
Stadium Seat Cushions
We offer a large selection of stadium seat cushions. Our cushions are a hit for any fan regardless of whether it's high school, college or pro. They double as excellent perches for seating around the fall firepit, and for weekend fishing and camping excursions. We've also had customers bring our custom cushions to local, small venue outdoor concerts and festivals. Custom rally seat cushions are comfy and lightweight, easily portable and are waterproof. Best of all, we can decorate your custom stadium seat cushion in the manner of your choosing, e.g. team colors with mascot or logo, or even a marketing slogan.
Can Coolers and Can Coolers
Custom can coolers are a staple of any game day tailgate party! Omaha Promos offers foam and neoprene can coolers, cardboard coffee cup sleeves for your hot beverages once the weather turns chilly - and a whole lot more. We have polyester can coolers, bottle style can coolers, Slap Wrap coolers and even coolers designed for wine bottles! Colors and styles are basically limitless, and we offer a number of camo patterns to choose from as well. Don't root your team onto gridiron glory while parched and thirsty! Get your cold drink on from Omaha Promos with a custom can cooler project today!
Clear Stadium Totes
Increased security around the nation has entry protocol for college and pro game days changing. Transparent stadium bags allow security personnel to inspect the contents of bags people bring with them to the game. Omaha Promos offers a large selection of practical clear bags for you to put your wallet, binos, stadium seat cushions, a blanket, sunglasses, camera and cell phone in at an attractive price point.
Custom Mini Footballs with Logo
This promo category might be our favorite because these small, inexpensive plastic and foam footballs hark back to a simpler day, the days of our youth, when all the boys and some of the girls were imagining Saturday and Sunday gridiron heroics in the backyard. Omaha Promos can custom design a mini football just for you! Pick your company (or team) colors and get us your camera-ready art and we'll execute! Imagine your company name being displayed on freebie footballs you're passing out pregame at the high school or local university. Foam footballs, mini foam footballs, plastic and vinyl footballs, football rockets, faux-leather footballs, just about anything your football heart desires.
Call Omaha Promos in Omaha or Kansas City and talk to a real human, not a faceless order taker, today!