Stain Imaging is here at Omaha Promos! Never heard of this awesome new t-shirt style? We're here to educate you right in time for beautiful Springtime weather.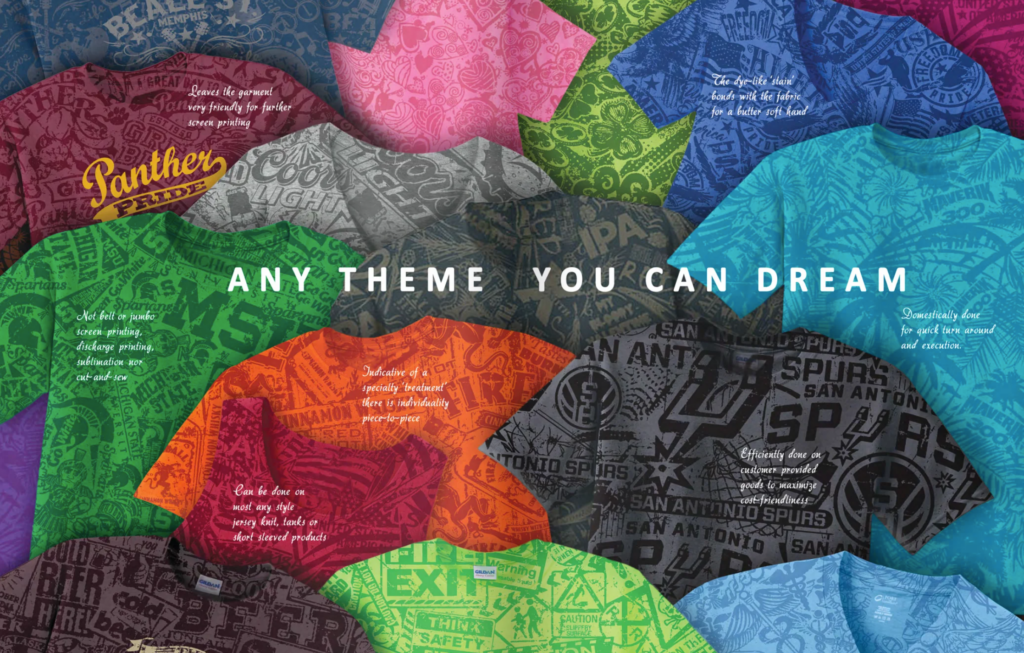 Stain Imaging is a new way to logo and decorate your custom business or non-profit t-shirts to give away to your valued friends and peers, to sell in your pro shop, and/or to outfit your staff for casual Friday (or every day of the week depending on your industry).
Stain Imaging from Omaha Promos allows you to create powerful and dynamic substrates using regular, ordinary t-shirt blanks that we can source from virtually any manufacturer, so this marketing and branding strategy will work with just about anyone's budget. Remember, the great thing about putting your company name or logo on a t-shirt is, people love to wear custom tees and the shirt becomes a walking billboard for your brand! Repeat brand impressions every time they encounter someone at work, in public, at lunch, etc.
Options include white washed, tonal, black washed, color tints and color contrast. With this process, Omaha Promos can actually emblazon your custom t-shirt with multiple muted logos throughout the entire garment for a totally custom, one off look for your promotional products and custom corporate apparel initiative. This is a truly unique, custom t-shirt decorating technique that is akin to an all over screen print, but leaves you a semi-translucent, weathered appearance that everyone is going to love. Omaha Promos can do a ground up custom design for you, or you can design your own tee and we'll execute your vision with speed and precision. Note: Turn time is favorable on this technique, about 2 weeks from the time we get your blanks onto the production floor.
With custom t-shirts from Omaha Promos, you can achieve a distinct decorating option that's domestically produced (even if you're using blanks from outside the US). Our Stain Imaging tees are cost friendly, eco-friendly, are naturally distressed, are soft and comfortable for a retail feel, and are available in multiple colors, styles and sizes from Toddler to 5XL!
Make the ordinary EXTRAORDINARY with Stain Imaging t-shirts for your next Spring or Summertime self promo marketing campaign! Call or e-mail Omaha Promos today for all the details and special in-quantity pricing! Shop online with us or hit up our Quick Contact link on our website!