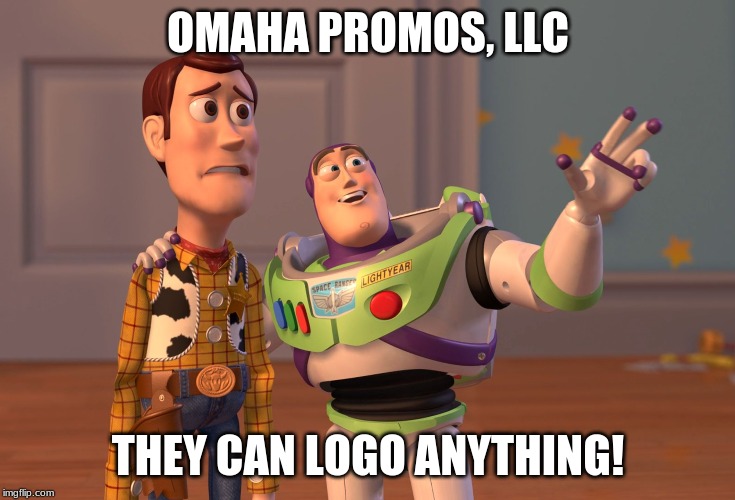 We've been asked before, "What can Omaha Promos put my company logo on?"
Truth of the matter is, Omaha Promos can logo ANYTHING you can imagine and probably a lot of items you didn't think of.
In this week's knowledge drop about all things #promopower and how custom branded merchandise and custom clothing from your promotional products leaders, Omaha Promos, LLC can increase brand awareness in the marketplace, we're going to touch on the high points of our capabilities, a summary of only a few of the major categories Omaha Promos can provide.
Custom Clothing & Accessories
Omaha Promos does business with companies, non-profits and schools from coast to coast. Custom clothing, uniforms and scrubs are among our specialties. We do custom t-shirts, custom polos, all manner of corporate apparel and business wear, too. Choose from Omaha Promos' extensive array of custom hoodies and custom trucker hats, and we offer a dizzying array of custom outerwear, jackets and cold weather gear to boot.
Pens, Pencils & Highlighters
Pens, pencils and highlighters are a staple of any promotional products supplier, and Omaha Promos is no different. Choose from many hundreds of customized pens, logo pencils and custom highlighters, all in different colors and displaying your company's name for all to see. This is one of the most affordable promotional item categories and what's really important here is, the people you gift these items too appreciate and use them; every time they pick up an Omaha Promos pen (bearing your company name), it's a repeat impression for your brand!
Bags & Totes
Omaha Promos BRINGS IT when it comes to the best selection of custom logo bags and totes for your employees, fans, trade show booth and more. We do a lot of custom totes, school backpacks, linen bags perfect for your grocery store runs, we have messenger bags which are practical and popular with the guys these days too. Omaha Promos offers logo bags of so many varieties, styles, sizes, colors and construction, call or e-mail us today for details!
Drinkware & Koozies
Oh man, does Omaha Promos know a thing or three about custom glasses, custom mugs (custom drinkware of all kinds, really), and we do about a zillion different can coolers, koozies and bottle coolers too. We offer many types of mugs and cups, water bottles and sport bottles with your logo on them, can sleeves, coasters, growlers and more! Plus, custom beer glasses, custom shot glasses, pints, silicone drinkware with your logo on it, mason jars, champagne flutes and other styles.
Technology Promotions
Technology promotional products are a category that's growing all the time. Omaha Promos offers many custom, branded tech promo and technology gift ideas for you, your staff and your valued clients. These make awesome customer appreciation gifts and some of the less costly items even work well in the trade show booth. Choose from custom flash drives and ear buds, custom power banks and custom thumb drives, custom Bluetooth speakers, even custom logo power banks!
In Closing
Omaha Promos has been the Midwest's leader in the promotional products, custom clothing and uniform industries for many decades now. Let Denise in Omaha or Barb in Kansas City provide you the sort of customer service experience and after sale support you have come to know and trust in a registered Woman Owned Small Business (WOSB). Get noticed! Get Omaha Promos today!