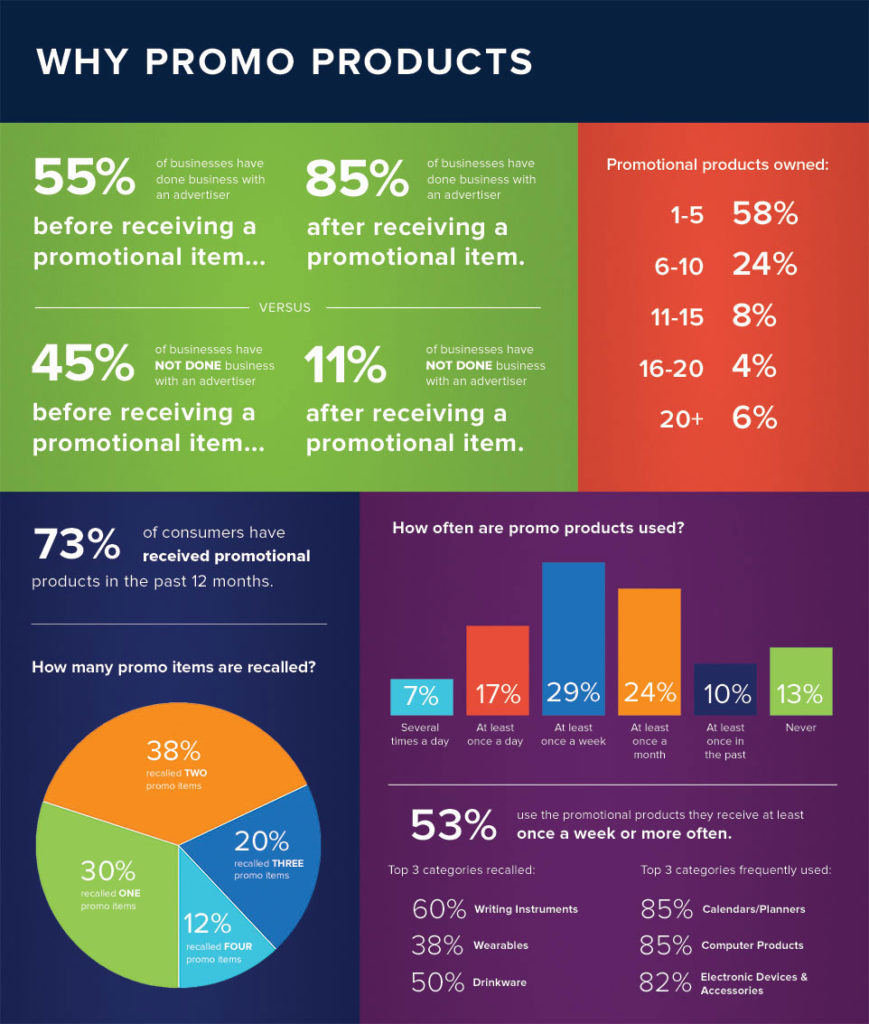 If you're like some people out there, you may be inclined to think promo products are cheap, disposable, offer no real rate of return for the businesses which invest in them, and you may even believe people who receive promo items don't remember the companies that give them out or see any value in receiving the promotional items to begin with.

In this blog post, Omaha Promos throws some real life promo power market research at these age old stereotypes about promotional advertising (survey data supplied by ASI, or the Advertising Specialty Institute).
First, let's talk about the staying power of promo products. Market research indicates across all promotional products, the average amount of time between a person receiving your promo product and the time they eventually discard it is 7 months. Some products such as desk blotters and calendars stick around -you guessed it!- about a year while others, particularly safety products, health products and writing instruments, last the initial user around 6 months. Best of all are custom wearables like custom t-shirts and custom trucker hats popularized by the team at Omaha Promos. Design a custom shirt or baseball cap that's a stylistic winner and people will be wearing your company name and logo for upwards of two years from time of gifting! Free advertising in addition to showing how hip your company or non-profit is!

Now let's talk about impressions, or the number of times your brand benefits from exposure through promotional marketing. Custom totes and bags generate the most impressions of any item measured in the study. The likely explanation here is bags are carried in public places, concerts and sporting events, in view of hundreds if not thousands of people per day. Custom writing instruments, custom hats, custom outerwear choices and custom t-shirts are all top performers in the repeat impressions category as well.

How about the assertion that people who receive your promo items won't remember your brand or company name? In market research, 85% of recipients of promotional products could identify the advertisers on the promotional items they owned. That is significant recall and much higher than traditional marketing media. Additionally, recipients also overwhelmingly feel more positive about the advertiser of the promo products they receive.

One question that comes up frequently with Omaha Promos' customers is whether promotional products get shared or passed along. While many people hold onto and use or refer to promotional items after receiving them, quite a few folks choose to pass along products or give them to friends and colleagues. For distributors, this enhances the value of a promo item, as products gain advertiser impressions not just with their intended recipient audience, but also with a pass-along group that also can remember an advertiser's message or name.

Omaha Promos is a full service promotional products and custom apparel distributor. We offer all manner of promotional products and promo items to suit your marketing needs and advertising budget or event planning. From trade show giveaways to green promotions, from custom apparel and uniforms to client appreciation gifts, from can coolers and golf promotions to promotional candies and custom outerwear, Omaha Promos and Omaha Promos Kansas City has you covered. Call or contact us through the OmahaPromos.com Quick Contact interface today!