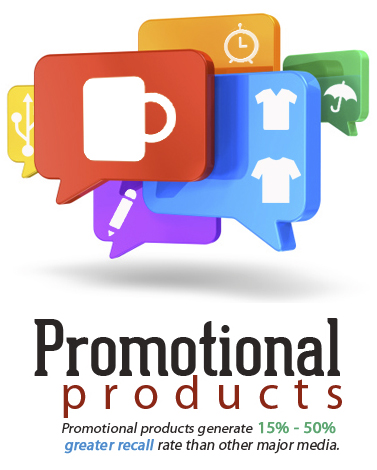 We live in a digital world and, as such, marketers often tend to concentrate on social media at the exclusion of all other advertising strategies and methods by which they can engage both their current clients and fans, but also prospects.
The reality is, those personnel responsible for marketing for your company or non-profit are missing out on the continuing potential of traditional promotional products -items or wearables branded with your name or company logo- to increase your brand awareness and conversion rates. That means your business is missing out, but Omaha Promos has a solution for you.
Omaha Promos has been educating our customer base as to the efficacy of promo items and custom clothing for many years. Time and time again, we have brought added value to our client's overall marketing scheme with hand curated promotional items and branded merch, custom apparel, trade show giveaways, customer appreciation gifts, employee awards and incentives, golf promotions such as custom golf balls and custom can coolers aka Koozies), green and renewable gifts and much more.
But don't take our word for it!
According to a 2016 study by the Advertising Specialty Institute (ASI), a majority of people who receive promotional products don't simply toss them in the trash. Indeed, most folks who receive custom promo items from Omaha Promos keep said item(s) for upwards of eight months. Eight months! The important thing to know here though isn't that promotional products are retained for a long time, but also:
Promotional products are typically used repeatedly if they're retained in the first place, meaning repeat brand impressions for your company!
When the initial recipient eventually does decide to part company with the promo item, they often pass the item onto a friend or co-worker who in turn uses the gift or item, again reaping your business continued ROI through typical conversion rates in the industry.
So promotional products just plain work.
Why? Because when people receive a useful item that's branded with your company name and logo, they tend to remember you and call you the next time they need something in your product or service category.
We know for a fact people polled report they like receiving promo items from Omaha Promos, partly due to the fact we're students of our industry and are constantly evaluating and updating our promotional products and custom clothing lines so we can offer you the best selection of each regardless of your marketing budget or target audience.
That's not all though. People like us because advertising with Omaha Promos is more effective and a lot less expensive than other methods of advertising. Take for example direct mail campaigns. Omaha Promos' research clearly shows people throw away direct mailers, so while you think you're enjoying a broad reach, people are actually ignoring your advertising attempts. E-mail marketing doesn't do much better by way of conversion rates; studies suggest a majority of consumers don't stay subscribed for long, even to newsletters of companies they like or do business with! Radio is a dying advertising medium in most markets, and don't even get Omaha Promos started on the limitations and sheer cost of television ads.
Omaha Promos is your single source promo products vendor in the Midwest. We are family owned and operated since 1923 and we have offices in Omaha, Nebraska (denise@omahapromos.com) and Kansas City, Missouri (barbara@omahapromos.com).