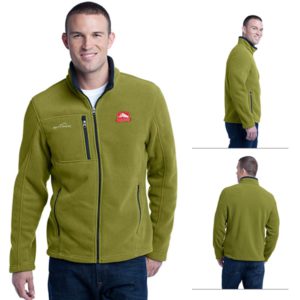 The promotional product industry has undergone tremendous evolution and growth the last many years. Team Omaha Promos predicts 2018 will be no different. Thankfully, consumers outside the promo products industry are decreasingly associating promotional item distributors as peddlers of cheap swag and trinkets, and more as the educated and enthusiastic branded apparel, custom clothing and promotional products marketing experts we are.
One of the most notable promotional products trends Omaha Promos sees as significant in 2018 is the move toward what we call retail details: huge, well known retail clothing brands continue to enter our space, so promotional products distributors must have solid relationships and product channels with manufacturers and suppliers so as to provide our customers what they really want: quality promotional apparel for your company or non-profit.
Gone are the days of stiff cotton t-shirts and off-brand clothing label options. Indeed, the fashion aspect of promotional apparel is gaining a lot of traction as vendors move away from basic choices to fashionable retail brands with stylish, high performance clothing choices. Today, Omaha Promos can outfit your employees and staff with custom apparel from such notable retail manufacturer as Under Armour, Calvin Klein, Izod, Eddie Bauer, New Era, North Face, Nike, Adidas, Bella, Columbia, Oakley, Carhart, Kuhl and many more - usually at well below retail cost!
What Omaha Promos calls a micro-trend in the realm of custom clothing and promotional products for 2018 involves customers' attempts to appeal to both sexes with the same custom clothing products. Half-zip hoodies and fleece pullovers are good examples of custom clothing garments Omaha Promos can design for you, complete with your company's logo, and appeal to both men and women in the workforce (as well as your fans). Obviously, Omaha Promos is a full line promotional products and custom logo clothing supplier and we can give you whatever age group or gender specific garment option you want.
So what else? Teens and kids in their early 20s are getting into the mix too and any promotional products distributor would be well advised to prepare for this expansion of the custom clothing market. When high school students look for stylish branded apparel, say with their school colors and logo or other sports teams and organizations, they're seeking style and bold color accents in a performance garment they can wear every day. This is where fashion and technology marry with custom clothing other than your average 100% cotton sweatshirt or tee for example. Think poly, poly-cotton and poly-spandex blends with multiple imprint locations on a high quality, long lasting and handsome, name brand garment choices.
As for decorating options, while Omaha Promos continues to do a lot of work in embroidery, this decorating technique seems to be slowing a bit in popularity, giving way to heat transfers, debossing, sublimation and screen-printing. People of all ages are leaning toward fresh, exciting looks in retail clothing for promotional purposes. Metallic and gel inks grow in popularity all the time, and unorthodox decorating or imprint locations are becoming the norm rather than the exception.
Omaha Promos recognizes people want to be stylish and stay comfortable as they navigate their busy personal and professional lives. Branded apparel choices for your logo wear should consist of quality, easy care garments which can be worn different ways and in various settings/on various occasions. Omaha Promos' clients are increasingly asking for these sorts of qualities as they shop custom clothing from us, and they're less worried about cost and more concerned with a retail look and feel.
2018 will surely bring additional custom clothing (promotional clothing) choices to the marketplace. Please consider letting Omaha Promos manage your next logo or identity-wear project for custom clothing and uniforms in the Omaha, Nebraska area and beyond. Omaha Promos is a fourth-generation family owned business with offices in Omaha and Kansas City.
Until next time, Merry Christmas from Omaha Promos!