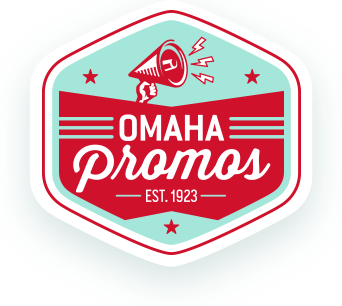 Social media marketing seems to get all the attention lately, and small business owners often forget about tried-and-true, traditional marketing methods such as promotional products and custom apparel.
With spring upon us, now is a great time to take advantage of the power of promo products to spread the word about your business.
Here are some tips to help you make the most of promotional products.
Spend your marketing money wisely! Omaha Promos can help you ensure your money is spent wisely. That means identifying what you want to use your promotional items for and what you want to achieve with them. You might want to:
Pass promotional items out at a trade show, conference or networking event.
Provide a giveaway item as an incentive, e.g. signing up for e-mail lists and so on.
Send promotional products bearing your company name to valued clients.
Promotional products in the first couple examples above might be less costly items, but Omaha Promos always suggests you pay for a quality leave behind gift when it comes to leaving an impression on your customers!
Make your promotional items useful! In order for a promotional product to be kept and used, it must be useful. Custom pens, custom power banks, custom totes, custom lip balm, custom note pads, custom sticky notes and other items of this nature aren't exactly "sexy" promos, but they're all proven winners. Consider seasonally appropriate products, too. For example, for summer, promotional products such as custom beach towels, custom sunglasses, custom baseball caps, custom coolers and custom insulated drink tumblers are all great ideas that will be retained and used year after year. And remember, when you buy custom branded clothing and promotional products from Omaha Promos, you're virtually guaranteed a return on your investment in the form of increased brand visibility in the marketplace!
Products should be relevant! One reason so many companies give out tote bags at trade shows is attendees collect so much literature and product samples, making tote bags very relevant to the situation. Handing out affordable Omaha Promos sunglasses at a lakeside 10K or local outdoor Crossfit competition would be great ways for you to provide a relevant branded item that will make people happy and increase your brand awareness in the marketplace as well.
Remember: visibility! Of course you want your logo on your promotional product. Think of these products as walking billboards, e.g. a custom T-shirt, custom beach towel or custom Omaha Promos trucker hat; Omaha Promos will design something truly memorable for you and your brand. Omaha Promos specializes in all manner of custom apparel, custom polo and custom tee design, custom baseball cap and custom outerwear choices, and of course we select the best custom promotional products from thousands of suppliers so as to meet your individual promo marketing need - and within your budget, every time!
Looking for cool ideas for promotional products or custom apparel? Look no further than Omaha Promos, your one call does it all distributor for custom clothing, custom apparel, uniforms, embroidery and other decorating options, custom promotional products, trade show giveaways, customer appreciation gifts, employee incentive gifts and more!