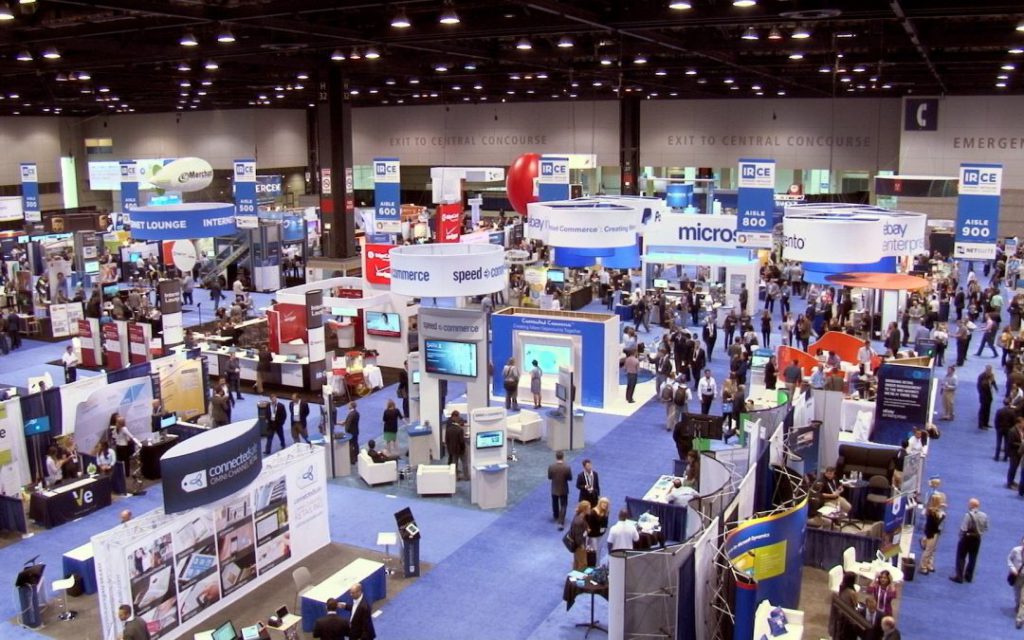 Summertime is trade show season. Business associations, home and garden shows, car shows, food and beverage, gaming and entertainment, boat/sport/camping shows and many other industries offer up entertaining and informative shows across the country. Omaha Promos wants to help your business or non-profit leverage the enthusiasm and traffic these shows generate for increased brand awareness on your behalf and, ultimately, more interest in your company.
One trade show strategy Omaha Promos has used with great success is generating leads before you get to the trade show. You should be keeping contact with every lead you've generated from years gone by and ensure they're aware of the trade show's existence and your participation in it (including booth number and floor location) a month or six weeks out. Also, don't forget to trade contacts with the other exhibitors at the trade show; business cards are cheap (Omaha Promos sells business cards!), so pass them out to each and every vendor there, because vendors can become clients or, at a minimum, valued vendor-partners who can collaborate with you along your path to success.
Another important tip, and this may be the most vital bit of trade show advice Omaha Promos can offer, is this: be professional and talk to everyone you see. This point cannot be overstated. Make sure your trade show staff are the cream of your company's crop, and make sure they look great with custom embroidered or screen-printed shirts supplied by your promotional products and custom apparel experts, Omaha Promos. Another thing, never leave food or drink lying about your booth, it just looks unprofessional. And be polite to everyone you encounter, even people whose behavior may not warrant it. Why? Because anything else is poor form in business and, remember, word of mouth travels fast these days with social media; one person can do a lot of damage, so treat folks with respect.
Of course, your successful participation at any trade show is contingent on you having great swag! Promotional items branded with your company colors and logo can be useful reminders of the positive experience trade show visitors had with your company's staff.
Here are Omaha Promos' recommended trade show giveaways sure to please and prompt people to remember your company:
PopSockets for cell phones. According to Business Insider, the average cellphone user touches their phone over -get this!- 2,600 times every day. Adding a Popsocket to your phone makes it prime real estate for promoting your company and is a great giveaway item to promote your brand. PopSockets are the original cell phone grip and stand. Never drop your phone again with a PopSocket, custom decorated by Omaha Promos.
Adhesive cell phone wallets. With an adhesive cell phone wallet from Omaha Promos, your customers, prospects and fans can essentials like an driver's license, credit cards, hotel room keys and small amounts of cash. Most importantly, they'll also be carrying around your logo, giving your brand countless impressions every time they pull out their phone!
Promotional pens (custom writing instruments). The classic promo pen is an easy and budget-friendly trade show giveaway, and good pens are surprisingly affordable these days. Omaha Promos suggests liquid ink rollerball pens which come in a variety of vibrant colors. Even in today's electronics-controlled world, people still need (and use) pens, so make sure to check out Omaha Promos for a full array of customized writing instruments for your trade show giveaways and beyond!
Custom koozies. Customs can coolers (custom koozies) are a summertime promo product hit for any company because literally everyone loves a koozie, they're inexpensive and portable, and they're a great way to show off your brand. And of course every time you give a custom koozie out to a person you chat up at a trade show, you're getting a repeat brand impression every time they use the can cooler. Check out OmahaPromos.com today